We believe that stag pranks are essential parts of an exceptional a stag do. We want to help you make your stag prank memorable, so we collected the best ideas for you. Study them or just quickly scroll down and see which one is your fav! There are stag friendly, humiliating, funny, and even cruel stitch-ups, feel free to collect some ideas!
Let's start off with some basic friendly stag pranks. These aren't even classical pranks but they are great memories and our groups just love them!
---
STAG FRIENDLY PRANKS
Wake up Show – Sexy Maids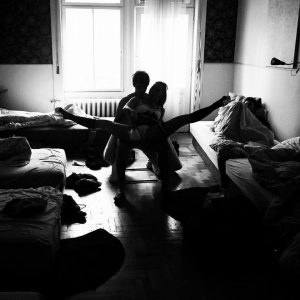 This is just a great way to start a new day! Two naughty maids knock on your apartment's door in the morning to help you wake up. They start up with some teasing cleanup activity, making everything shine like a crystal ball, then jump on your bed just to give the stag an unforgettable kick-start for the day. You can do this prank with policewomen, nurses, doctors, mother-and-daughter… whatever you desire! Great stag pranks for beginners.
Mud Wrestling – Oil Wrestling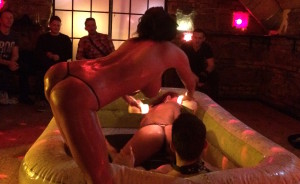 This is one of the weirdest but at the same time sexiest stag prank you can choose. It's a bit surreal, but also very titillating, and definitely, something every member of your group will remember, especially the Stag of honour! Watch the stag being wrestled down to the floor in a pool full of mud or oil.
Stag Dinner
Go out for a dinner with the group where the dessert is a hot chick doing a lap dance for the stag. You can combine the roles and the numbers of the strippers to make it more interesting. Ask for body sushi to give the event a far eastern twist.
Naked Dessert / Body Sushi
Who wouldn't want to lick the ice cream from the nipples of a stripper? Ask for this prank to get a flesh and blood table full of sweets or sushi. Lunch is served!
Sexy Hitchhiker
Along the way between the stops of your weekend you happen to encounter surprise hitch-hikers desperately looking for a lift. Be a gentleman and don't let them wait too long out there. Remember, generosity always pays off!
Sky Diving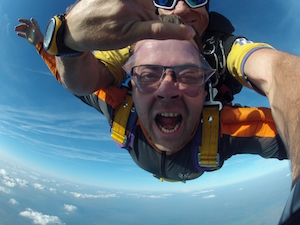 Simply take him to the airport and watch him go pale when he realises that it's not some flight simulator but a real Cessna going up to 4000 meters before he's thrown out. The rest of the group can  sit back and enjoy a few drinks watching the stag approaching lightning fast from above.
---
HUMILIATING STAG PRANKS
Busk or Bust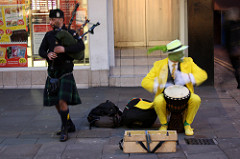 This is one of the easier stag pranks. Steal the stag wallet and IDs, and all the money or cards he carries. Give him a hat, some nice clothes – preferably with his ass shining out –  and make him busk on the streets in front of a pub where you can comfortably sit down to watch the show. Set a target amount for him and return all his belongings only when he collects the dough you wanted. Then you can spend it on strippers just to make him break even.
Pedal Low
If the stag considers himself a pimp and is all about looks, you may want to dethrone him as king of fashion  by giving him a nice pink tricycle to move around from scene to scene at night.
The Lamp Post Prank
Dress the stag properly, meaning, dress him in a way that his hairy butt sticks out at least. Put on a sign saying "€5 for a butt-slap", and give some time to collect the money to finance the next prank! Hahaha, evil lol! We're starting to get cruel in the world of stag pranks.
The Mankini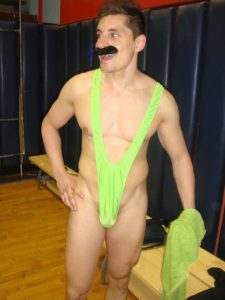 This is the classic Borat-suit prank. Combine it with any of the pranks above or below, and have him go to the bar crawl in the suit. Maybe you can send him in a store full of women and watch him collect the list of items carefully picked by the group.
The Viagra Prank
It is essential to put on a stretchy suit before mixing viagra in his drink. Do it before going out, obviously.
---
FUNNY STAG PRANKS
The Roly Poly Prank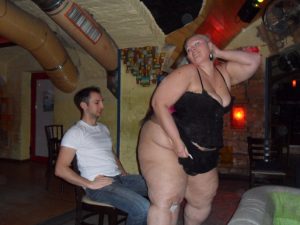 You can do it in various ways, although, you may want to try one of the best: handcuff the huge stripper to the stag for an hour in a crowded party. An easier solution is to give him a standard strip show at the accommodation, blindfold him, and record his face when he catches a glimpse of the model giving him the lap dance. You can combine the essential roly-poly with any activity you like. Use your creativity!

Handcuff Pranks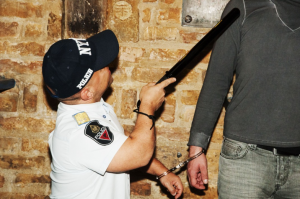 You can choose from the two most popular subjects to handcuff to the stag. A roly-poly stripper or a dwarf! Do not forget to make as many pictures as possible!
UV Been Tagged!
Get him a dress UV painted by your favourite line that will only be seen in the club at night. He won't know about anything until it's too late! You can write anything on him …
"Have you seen my mummy?"
Bringing the Wifey-To-Be
Having a poker face is crucial at this prank. Wait for the moment when you're heading to some place where a stripper shows up, and tell the stag that you have an amazing surprise for him. His wife will be waiting for him at the place! Act shocked when he freaks out and tell him that you don't understand, you thought he loved his wife-to-be enough to share special moments. That's the reason you invited her. You may even organise her to really show up saying "Surprise!", and enjoy the awkward moments!
Broken Leg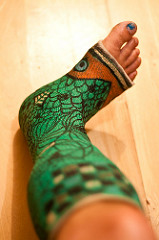 Make sure the stag gets drunk enough the night before to believe literally anything you tell him. After the black-out, plaster his leg, and tell him that he was hit by a car last night on the road and his leg got broken. Let him crack on the weight of thinking about how to explain it to the bride.
Fake Bride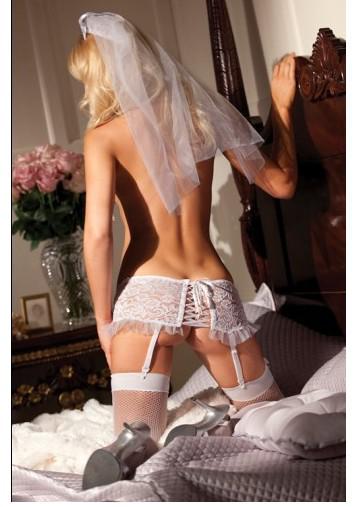 Get a girl who pretends she is the bride to be to the stag showing up with a suitcase ready to move in. She needs a certificate, a fake wedding ring, a solid story to tell and an extremely convincing attitude. Also, it's essential to get the stag drunk enough so that he would think "I know I was drunk and I can't remember anything, but I didn't do it, right?" This stag prank kicks off with the fake bride knocking on your door, convincing the stag that they got married and when he starts panicking, let the show begin!
Fake Bungee Jump Prank
It takes a little bit of preparation, but it's definitely worth the effort. Convince the stag that you want him to do a bungee jump from an old wooden bridge but you blindfold him to make it less stressful. Then you take him – blindfolded – to a pool and set your cameras ready not to miss a single moment of it.
Bachelor Party Prank Sends Groom 'Bungee Jumping' Into Baby Pool
The Dildo Prank
Hide a huge dildo in the suitcase of the stag and make sure the airport security finds it. Remarkable moments when they stand him aside while the entire queue is staring at him we are telling you…
An amusing video has emerged of a man discovering a sex toy inside his hand luggage as part of a stag weekend prank at Budapest airport in Hungary.
The Car Accident Prank
Find two cars. Remember, this only works if your mate is completely WASTED. Go to a parking lot with both cars and park so one is facing the other one head on. Put your mate in the driver seat – passed out preferably – and get comfortable in the passenger seat yourself optionally with a few other guys in your car.
Get the other car to drive straight at your parked car and kick the breaks so it skids, blow the horn and everyone in your car screams as loud as they can. The reaction won't disappoint you!
Another and a simpler way of doing this:
The funniest video i've ever seen, man gets scared by mates screams the 'squishes his burger'!!!
---
CRUEL STAG PRANKS
Stag Arrest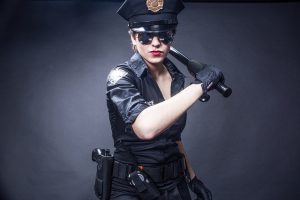 You need to steal the ID of the stag first before some dressed up fake policemen show up for a regular control. As he is most likely wasted without any valid IDs this will be more than enough for the fake policemen to arrest him. You need to have some good actors here (be careful not to overact) to create the atmosphere and scare the shit out of the stag. The undercover policemen handcuff him and put on a bag before they throw him in the car. They drive around until the entire group arrives in the strip bar. The stag is dragged down the strip club with the bag on his head, scared like hell, until the bag is removed! Then the fun begins with a stripper jumping on him right away!
The Tattoo Prank
Buy some nice henna, preferably a cheap one that tells everybody he is a prick. Wait until he collapses at night, then put on the henna. Wait 'till next morning, but be sure you wake up first and film the first and best minutes of the stag stitched up. This is similar to the scene in Hangover part II and he'll definitely freak out when you pretend it's a real tattoo.
Paintball Punishment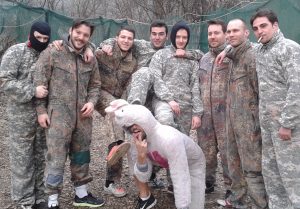 It's a perfect pick if one of your activities is paintballing. Take his clothes and hide them on the field. His task is to collect each piece of clothing running from hideout to hideout while the others all geared up aim at him and paint him every possible colour. If you want to show some mercy want and avoid the painful wounds you can get a nice chicken (or whatever) costume for him. Renting one is not recommended as you will probably need to throw it away at the end.
The Air Mattress Prank
This works best if you choose a nomadic stag do right next to a lake, but you can always improvise. Put the mattress of the stag to the strangest places possible, like the lake, the roof, the basement, the street, … anywhere that freaks him out when opening his eyes.
PRANKS! PRANKS! and more….SORRY BRO!! Subscribe to my channel and join my ARMY! I'm Ben Phillips and through my unfortunate buddy Elliot Giles our mission is to make the world SMILE! Every time you click thumbs up that potentially makes 10 other people SMILE!
Game of Spoons
Just watch this video… it's gonna hurt.
Morgan was roped into a game of spoons on his stag do against the "welsh champion". Needless to say – he lost!!
Airhorn
Tease his ears with an air horn when he tries to fall asleep. He will surely be grateful for you making the stag do last longer.
Shave his Eyebrows
You must be really cruel to do this prank, and we DO NOT recommend it if you want to stay friends with the stag and especially with the bride.
Any other way, just be prepared to fend off the revenge of the newborn family when they find out they have to tweak the wedding pictures a little bit.
Pubestache
In spite of the previous stag pranks, this time you add some hair instead of removing it. Ask the group to grow their pubic hair as much as they can and collect it in a box. Then just wait for the perfect moment when you can glue it all to the stag. You can use any free space like the face, ear, nose, arms or neck of the stag. Then you can max it by paying a visit in a public place like these badasses did.
A guy on his stag do that's been gaffer taped to a wheelchair in just a pair of incontinence pants, clown shoes, colourful socks and with his friends pubic hair glued to his face and holding a cabbage gets wheeled into a senior Center for over 50s.
40 Years in Coma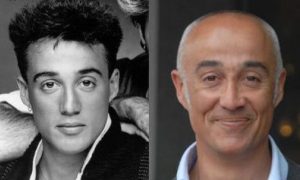 No doubt, this is the cruellest thing you can do to the stag and you either must be the best friends in the universe or you must hate him if you plan to prank him with this one. It starts like many others before on a usual stag do, you drink, you drink and then and you drink some more. When he faints, the fun begins. You need to hire a make-up artist to turn the stag into his 40 years older alter ego.
Make him loose his hair (hiding preferred over cutting), put on some glasses, dye his hair grey and make his skin look older. Try to do the same to the rest of the group for a perfect set so when he wakes up and looks around, you can tell the story that he had a terrible accident on his stag do and he was in a coma for this long! Try to make the painful recognition long enough for the best results.
Share these unforgettable stag pranks with your friends!